Welcome
to

INDEX & GATEWAY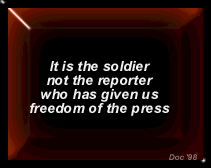 Please Click on the barbed wire/Links to visit pages.

Ronald Forrester : A Hero Our Nation FORGOT.

Freely Use these POW/MIA Support Images.

Learn the Rest from : Operation : Just Cause
Send an email to me or Return to my Home Page.

The 'Television' .GIF was made by Doc. Please visit his Patriotic Graphics Site.